Code 3512TM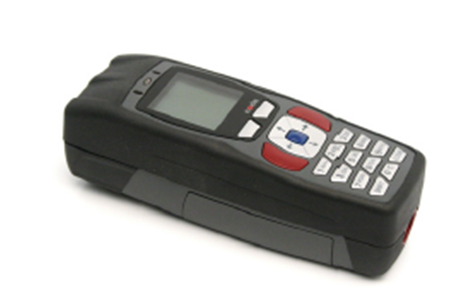 The Code Reader 3500 (CR3500) establishes a new benchmark for Portable Data Terminals and Hand Held Computers by combining Code's new high-performance bar code reading technology with a graphic display and rugged keyboard. The CR3500 is the smallest and lightest full-featured bar code reading terminal on the market and the only batch PDA in its class with a 2D area imager.
Using the same ergonomic platform and imaging system as the Code Reader 2500, the CR3500 extends mobile all-symbology bar code reading to include information display and keyboard entry. The CR3500 excels in batch, cabled or wireless modes. Wireless readers
are available with a Bluetooth Class I or Class III radio. The Code XML Bluetooth Modem enables simplified wireless transmission of captured data to a host computer or system.
In Healthcare applications, the rugged design and disinfectant resistant housing can give you peace of mind knowing that the CR3500 can operate reliably 24/7/365.
With 10MB of batch data and JavaScript memory, the CR3500 is an ideal reader for applications requiring a wireless or batch solution. The CR3500's graphic display allows end-users to quickly toggle between multiple applications to expedite workflow, and eliminate data entry errors.
The CR3500 is an ideal bar code reader for inventory management, manufacturing, public safety, industrial automotive and defense environment.
CR1200 CR2500 CR3500
Features and Benefits:
Reads and decodes all bar code symbologies
Excels in batch, cabled or wireless modes
Modular design allows reader to never be out of service when charging battery
'Good Read' user feedback in vibration, visual and audible modes
4MB of batch data and JavaScript memory
JavaScript platform allows for easy integration with enterprise software
Continuous scan mode option for presentation scanning
Firmware is field upgradeable
Data output via Bluetooth, USB, RS-232, and PS/2
Graphic display and keyboard pad