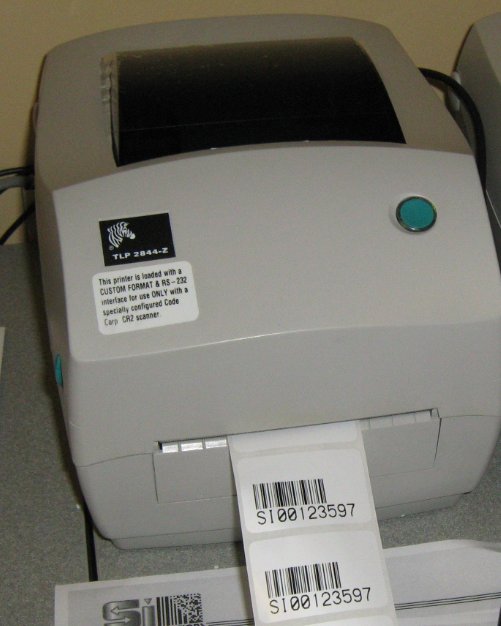 Zebra is the standard for barcode printers!  Our primary offering is the GK 420 series which are the best printer solution offered for printer your barcodes on demand or printer from the Secure Innovations ALD software.  This printer has been one of the best global sellers for years and years.  It is nearly indestructible
Specifications for this printer can be found at:  http://www.zebra.com/us/en/products-services/printers/printer-type/desktop/g-series-gk.html#mainpartabscontainer=detailed-specs
Please review the detailed product series information at:  http://www.zebra.com/content/dam/zebra/product-information/en-us/brochures-datasheets/desktop/g-series-brochure-en-us.pdf
Secure Innovations offers the complete product line of Zebra products to meet any application you desire.  For further information and pricing, please contact us.
Our well known ALD software solution uses a Zebra Product.
As noted in our Software Products we offer our ALD Software solution or Asset Label Duplication software.  This software makes it possible (via our offering of a proprietary scanner which is cabled to a Zebra printer) to read a barcode on one of your assets, such as a kit or cassette and as the barcode is read with the scanner it sends a message to the printer to print out a large label.  In each case, the scanner sends a message to the printer and a code 128 barcode is printed.  Your assets can have a 2D barcode or a lineal one and the output from the printer will be a copy that is printed in Code 128.  The labels are designed to go through the autoclave units.
Step one: Read your existing barcode on an asset: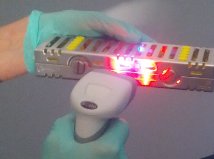 Step two: Scanner communicates to the printer to make a copy in a Code 128 barcode 2" x 1.25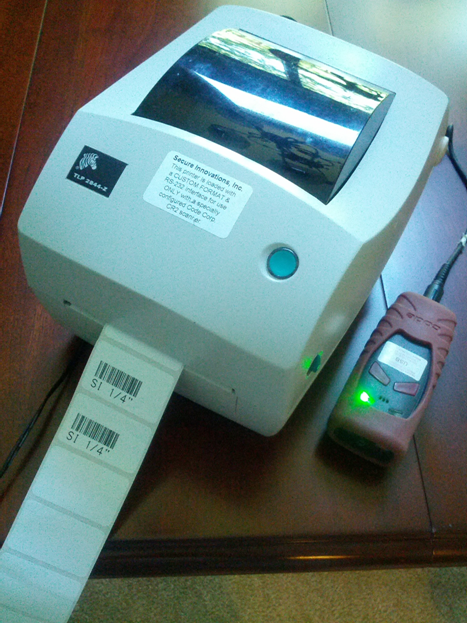 Step three: Place the larger barcode on the exterior of your blue wrap or Peel View Pouch: